Are you going out of business in 2020??
If you feel like there's a bullseye on your back as a small business owner, take note. Indiview Media's Executive Director Bobby Hicks dishes on the number one reason why Amazon is dominating the global marketplace. And it's NOT what you think.
You may have seen it on the news or read about it in the papers. The retailpocalpypse is closing down many brick-and-mortar businesses all across America and some of our favorite stores like Toys R'Us, Sears, Kmart and hhgreg are all casualties of it.
What's happening and who's to blame? It used to be that your mom and pop shops would complain about the big box stores pricing them out of business. But now, even the big box stores are quaking in their boots with the rise of mega eCommerce brands like Amazon which seems to be gobbling up scary amounts of business in almost every industry imaginable. Amazon continues to grow at an alarming pace. In just a few years, Amazon has successfully gobbled up nearly 49% of US eCommerce market share and about 5% of all retail in the country.
That's alarming to many business owners who are starting to feel the burn as slumping sales lead to decreased profits, but is it really Amazon's fault that their business is struggling? I hear many business owners complain regularly about how much they hate Amazon. They can't compete with Amazon's prices. Consumers visit their store, look at or test their products, and then make their purchase from the Amazon app on their phone and have it shipped directly to their house in 1 to 2 days. The problem isn't Amazon. The problem is that many businesses compete on price and price alone.
Amazon is winning huge amounts of marketshare by competing on price and convenience. Amazon is in the business of customer acquisition. They are willing and able to spend more to acquire a new customer than anyone else, sacrificing margins, because they understand the value of that customer adds up over time. They are playing the long game. Their margins may be much smaller, but when you purchase everything you have from Amazon, that adds up to be a lot.
Amazon also makes online shopping easier than ever. Their app makes searching for exactly what you want a piece of cake and when you click on the buy now button as an Amazon Prime member, your new, must-have gadget is waiting for you by your front door the next day. You can do all of your shopping online without ever leaving the comfort of your bed. Just yesterday I purchased a new backpack, a display case for an autographed hockey jersey and a book authored by Neil deGrasse Tyson in less than 10 minutes and had it delivered to my door today.
It's difficult to compete with Amazon when they have mastered the game at giving you what you want when you want it for less. How are retailers expect to win when they're at war with a giant like Amazon.
So how do smaller retailers stay competitive?
If you can't compete on price and you can't compete on convenience, what else can you compete on? One word – service. Unfortunately, it seems as if too many retailers were hoodwinked on competing on price that they completely forgot about service and how important it is to retain business.
Just last week I took my 2-year old son to McDonalds so that he could eat and play in their PlayPlace while we waited for his mom to get off work. McDonalds is no longer the haven it once was in my youth. The restaurant that I had loved as a kid was deserted and empty.
Behind the counter of this particular McDonalds was a young man with greasy, unkempt hair and a scruffy beard wearing a wrinkled McDonald's polo covered in stains that was partially untucked. He slurred his words as he took my order, which I had to repeat at least three times.
From the other side of the counter, I observed how disarrayed their operations were. The manager, whose appearance was also unkempt and shaggy, struggled to get his squad of lethargic Gen Zs to fulfill orders; each one looking as if they had fallen asleep in their uniforms the night before and arrived to work in a drunken stupor.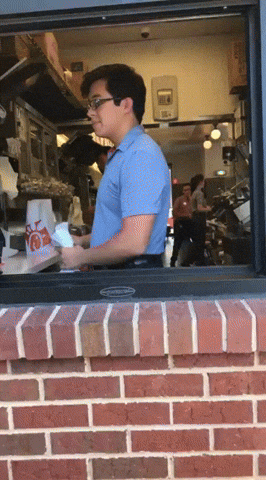 If you have kids, you know that toddlers are often times a handful. After waiting for at least 10 minutes for my son's happy meal and fighting with my son who was wiggling in my arms, kicking and screaming for me to let him down so he could slide down the slides in the play area in the other room, I'd given up, and decided that McDonald's could keep my money, their happy meal and my son and I would go to Chick-Fil-A instead.
Go by Chick-Fil-A one day on your lunch break and you will see the dining room full drive-thru lines wrapping around the building. Compare that to just about any other fast food restaurant and you will see a stark difference.
Our experience at Chick-Fil-A was entirely different. The line was huge, but it took less than 5-minutes to place and receive our order. We were greeted with a warm, polite smile by youngsters who were clean-cut and welcoming. Operations were extremely efficient. Employees with tablets stood in line with tablets to take your order while you waited in line to speed things up.
Chick-Fil-A is known for its excellent customer service. They reply back with "My pleasure" each time you thank them. They are attentive with their service, stopping by frequently to take away your rubbish and refill beverages. In addition to creating the perfect southern chicken sandwich, it's their customer service that has built their loyal, cult-like following.
The point of this story is to drive home the point of how important it is to provide exceptional customer service. We can learn a lot from Chick-Fil-A. People crave attention. They ache to feel validated and important. If you can make your customers feel like they are guests of honor, you no longer have to compete on price. Service transcends price. Your retention will increase and so will your profits.
I don't go to McDonald's often, but when I do, I order from their automated kiosks because I prefer that experience over dealing with a cashier with a poor attitude who very clearly doesn't want to be there and doesn't care about my experience there.
It's because of the poor attitudes of company employees and lack of customer service that people prefer more transactional transactions than human interactions even though deep down, we all desire human interaction and to feel important.
I'd like to give you one more example before I make my bold predictions for the future of business in America. My entire life, I've always wanted to play ice hockey. Unfortunately, where I grew up in rural kentucky, we didn't have an ice rink anywhere remotely nearby and like most hobbies, Hockey is expensive.
A couple years ago, I decided that I wanted to give hockey the old college try, but first I had to invest in a new pair of hockey skates which sold as low as $300 and as high as $1,000. Now, I could have gone to Amazon or an online retailer of hockey equipment and purchased skates, but with an investment that high, I wanted to make sure I got the perfect skate for me. Remember, I'm new and I've never played before. What I was an expert to help me properly select and fit a pair of skates for me.
I decided to drive the three hours to Nashville, Tennessee, the home of the Nashville Predators to visit Perani's Hockey World, a brick-and-mortar store that sold new hockey equipment. Because the drive was so long, I decided we'd make a trip out of it and took some friends and family with me.
I went in to Perani's Hockey World hardly able to contain my enthusiasm. With the purchase of my new skates, I was about to take my very first steps towards living out a life-long dream of playing hockey. However, the associate there didn't really care about my dreams. He was there to collect a paycheck. So, the whole point of me driving three hours away to Perani's Hockey World to buy a pair of skates to have an expert help me pick fit and select a pair of skates for me backfired.
I ended up buying a pair of skates that cost me around $800. Though they felt okay when I tried them on, when I got on the ice I had excruciating foot pain. I later learned that that particular skate was for people who had narrow feet with high arches and I had wide feet with flat arches. Because of the foot pain caused by getting the poorly fitted skates, I ended up delaying my dream of playing hockey for another two years. I sold the skates at a $400 loss on eBay and purchased a pair of skates on HockeyMonkey.com for a lot less and had them delivered to my door.
If that associate at Perani's Hockey World would have spent 20 minutes listening to me, taking the time to measure my feet and making sure I purchased the proper skate for the first time, I would have a totally different experience and would have likely made more trips to Nashville.  Perhaps the associate didn't have the product knowledge or the training to help me. If that's the case, the fault lies with management.
I once went to Dick's Sporting Goods to purchase a bike stroller for my son. Not once did an employee asked if I need something. When I finally hunted an associate down and asked if they had bike strollers in-stock, the associate told me they do, but I find one cheaper on Amazon. He may have thought he was doing me a favor, but in reality, he was not.
It's no wonder brick-and-mortar stores are struggling to keep their doors open and losing to eCommerce giants like Amazon. Amazon is dominating retail with low prices and convenient shopping and delivery, but it has an Achilles heel – it lacks the warmth of personal interaction. That's the only tool retailers have list to compete against these eCommerce giants. It's the pebble in David's sling. If you can't provide exceptional customer service to consumers, then you will start to see consumers drift towards transaction-based only purchases from e-Commerce sites and kiosks. Give your prospects a reason to visit your store and buy from you.
So, here's what businesses should be doing:
Hire people with a positive attitude. No one likes a negative Nancy. Be positive and take a genuine interest in your customers. Without them, you wouldn't have a business.

Invest in soft-skills development for your employees – God knows, we need it.

Make sure your employees are well groomed and clean. I don't want grease from their hair dripping into my french fries.

Train your employees on product knowledge. Those skates hurt like hell. Create experts to help me spend my money wisely and build those relationships.

Incentivize your employees to care through commission-based sales.

Train your employees on how to discover your prospect's pain points, how to listen and diagnose. Sell through service.
Bold predictions for 2020 and beyond
Okay, with that stated, what are my predictions for 2020 and beyond. It's likely not many people will actually read this article and if they did, not many people will take my advice. It's like climate change. We've been warned, but no one gives a shit.
I've developed a somewhat pessimistic view of the world which contradicts a lot of my preaching on positivity and attracting what you think. Despite that, I see a world plagued by consumers who seek instant gratification and cheap prices and businesses that are unwilling to adapt to evolving consumer behaviors.
So, based on that, here's likely what's going to happen. Brick-and-mortar stores will continue to lose to eCommerce giants. Retail in general will begin to wane. I feel like most people will make their purchases online.
The sporting goods store that has been in your family will eventually go out of business as will most brick-and-mortar stores. Smart retailers will move their products online whether it is Etsy or Amazon or their own website.
Service-based businesses and restaurants will continue to flourish as people are eager to invest more money in experiences. However, a lot of those businesses will fail unless they are willing to evolve. For example, movie theaters used to try and cram as many people as possible into a theater. Now, it's difficult to motivate people to leave the comfort of their own home when they can stream content from their enormous 4K TVs. Instead, cinemas are having to improve the experience by adding lounge chairs and recliners and serving food and alcohol.
This is a bold prediction, but I predict you will start to see dining rooms in fast food restaurants start to shrink with the rise of food delivery services like DoorDash and UberEats. Perhaps some fast food restaurants will get rid of their dining room all together and just have kitchens with pick-up locations for food delivery services. I predict that you will start to see more fast-casual dining restaurants open up like Blaze Pizza. The food is perceived to be higher quality than regular fast food chains, but is less expensive than traditional casual dining restaurants. Plus, you don't have to tip which means consumers save more money.
We live in exciting times for commerce. Everything is changing rapidly right before our eyes. If you take anything away from this article, it should be this – focus on consumer experience more than anything else. That is your one advantage over digital commerce. If you're a clothier, consider offering personalized stylists and tailoring. If you're a sporting goods store, consider offering free golfing lessons. Creating meaningful and lasting experiences for your customers with the intent of building relationships that keep your customers coming back.
By Bobby Hicks
Digital Marketing Expert
bobbyhicks.net